Sorry for being such a slacker the past week but well sometimes life happens and I get a little side tracked but I am back on board now. I will be posting Totally Organized Tuesdays later today and give an update with lots of pictures of what we have been up to. But before I did that I wanted to thank some people.
I got my first feature last week with Tara at
Undeserving Grace
. Her blog is very inspirational. So head on over to her blog and check out her series
Inspire Before You Expire
.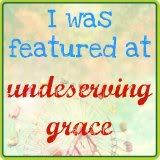 I am co-hosting a blog hop with these fellow twin moms. If you don't already follow them and link up to their blog hop "Tag Back Tuesday" every Tuesday. Oh and you don't have to have twins to link up.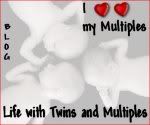 Happy Blog Hopping!